Services
Wind Ridge Farm LLC is pleased to offer the following services:
BOARDING

At Wind Ridge Farm LLC, out goal is to provide your equine partner with superb care — just as you would!
We offer:
11 x 12 Rubber matted stalls with individual lights, skylights and windows overlooking our rolling pastures. This gives your horse great ventilation, comfort, and eliminates boredom.
Fans in the summer months
Supplements fed (when supplied by owner)
Blanketing (when supplied by owner)
Turn out in new board fencing and round pen
Tack Room (to store your stuff)
Cedar sawdust that keeps our barn smelling good
Stalls cleaned six days per week
Your horse will be "tucked in" every night to ensure they never run out of water
We feed fresh feeds made right here in the 'Bluegrass' by McCaulley Bros. divided into three daily meals
Security lights and gated access (supplemented by big dogs and attack chickens)
TRAINING (a.k.a. "the Sporthorse Workshop")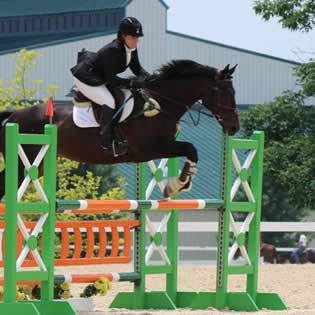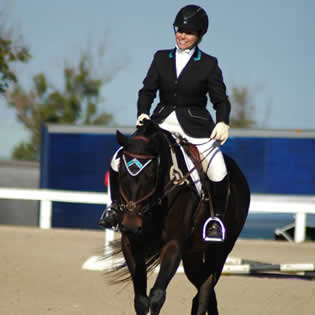 Here at Wind Ridge Farm, developing the equine athlete is our goal and our pleasure. Your horse will be worked 5 to 6 times per week and you're always welcome to watch. Lessons on your horse, while in training, can be arranged as your horse develops.
Training Rates (including full board): $800/month
LESSONS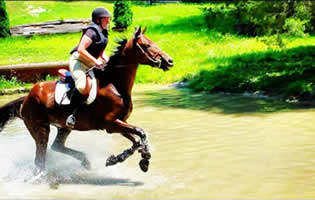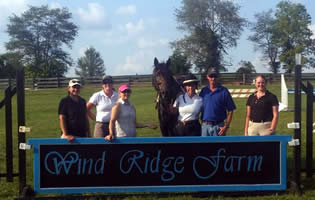 Lessons are offered in all phases of eventing which include basic dressage, show jumping, and cross-country jumping to riders aged 6 and up. Riding lessons can be done on your horse, or use one of ours if available.
Our lead trainer, Jeri Fuller-Matheny, has trained with Olympic caliber riders including World Equestrian Games silver medalist Dorothy Trapp Crowell, Canadian Olympic Team member Jamie Smart, French Olympic Team member Jean Luc Cornille, Nina Fout, Jimmy Wofford, and several others.
Jeri is currently coached in dressage under Grand Prix trainer Chrissa Hoffmann and "S" dressage judge Linda Zang as available per travel and schedules. Jeri trains her FEI event horse under the coaching of Australian 4-Star event rider Peter Atkins who also represented his country at the World Equestrian Games 2010.
Whether riding for fun, exercise, or competitions — we can tailor a lesson program for your needs! What are you waiting for?
Rates:
1/2 hour private – $35
45 minute private – $50
45 minute semi-private (2-3 riders) – $30 each
Please add $5 per lesson if using a Wind Ridge Farm LLC horse.
Mileage to your farm: $.55 per mile round trip.